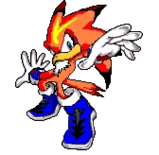 Welcome to the Great Bionicle War Wiki!
Welcome! This is a wiki dedicated to the Great Bionicle War, a fanon YouTube series created by ScorchtheHawk. This wiki was thought of by DarkusMaster (Scorch B), created by Flame-o (Scorch A) behind Scorch B's back, and operated by ScorchtheHawk Admins.
Recent News
Look forward to a new series for ScorchtheHawk: ScorchtheHawk News; coming soon.
ScorchtheHawk is starting up a new YouTube Series: An Emerald Walkthrough.
This site seems a little dusty and deserted, we need more active users hre please! If you know anybody on any wiki site your on, invite them here for us

Flame-o
•
There hasn't been a new GBW in over a year, I know that.
The main project of the GBW is no longer going to occur, but fear not, IT'S not over! after "Adventures of the Unknown," "Haotic Colors," and a couple other projects are finished, the GBW's sto…
For Newbies
To those who are new to the GBW, please watch this video. Fullscreen is recommended. (1080p)
thumb|left|500px
Partner Wikis
The Have Fun Wiki (On Approval)